Have you thought about what you'll be getting your mother or wife for Mother's Day? We've got you covered with a number of gifts for mom this year. On Target Training carries leather handbags, handmade/customized jewelry, and a huge selection of firearms and firearms accessories that mom is sure to love.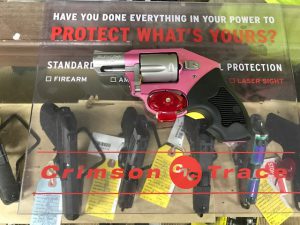 Firearms
1 in 5 women are gun owners in the US – is your mom one of them? Our inventory features a number of great firearms that are perfect for women. We have weapons in an array of colors including the Charter Arms Pink Lady, Lavender Lady & Blue Diamond – just to name a few.
Holster Handbags
Handbags with holsters are an ideal accessory for concealed carry, especially in the summer time; it's much easier for women to carry a purse than it is to have to conceal a weapon comfortably on their person. We have a range of high quality leather handbags with holsters built in. These products were made for women, by women so you know it'll be a great choice. We have a number of sizes, colors, and styles including totes, cross-body bags, shoulder bags and more. Learn more about these handbags in our previous blog post.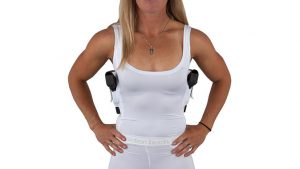 UnderTech UnderCover Apparel
UnderTech UnderCover is one of the top manufacturers of concealment clothing, dedicated to providing the highest quality of clothing available in the industry. The company provides almost 10 years of experience in the field and has sold hundreds of thousands of items to consumers across the country. Our inventory includes women's compression concealment shirts, shorts, leggings and more.
Can-Can Concealment
Finally – holsters that are actually pretty! Can-Can Concealment products are all individually hand-sewn and are available in a number of sizes and styles to appeal to various needs. These products provide compression concealment but are also feature non-slip backing and built-in Neodymium rare earth magnets for firearm retention.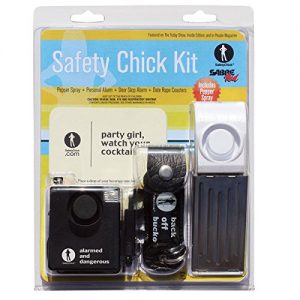 Pepper Spray & Personal Alarms
Depending on where you are, there is no such thing as being too safe. Make sure mom is safe wherever she goes and equip her with some pepper spray and a personal alarm. We have a bunch of different Sabre pepper sprays and personal alarms, even concealable lipstick sprays! Sabre is the #1 brand used by law enforcement, ensuring it is a trustworthy and effective product.
Safety Chick Kit
Like we said – no such thing as being too safe, especially when it comes to mom. The Safety Chick Kit is equipped with pepper spray, a personal alarm, door stop alarm, and drink testing coasters. It's a great kit packed with the essentials.

---
MOTHER'S DAY SALE!
Save 10% off* on all accessories when you pay in cash. Get the best gifts for mom this year from On Target Training.
*Exclusions apply. 10% off is only available with cash payments. Sale ends May 12, 2018.
---
Sources
https://www.cancanconcealment.com/
https://www.sabrered.com/
https://www.undertechundercover.com/