The Safety Bullet® – A Firearm Safety Device for the Real World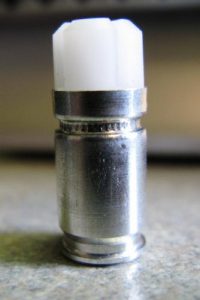 Got kids and a gun? The Safety Bullet® is a device that works when your gun is loaded or unloaded. More importantly, it allows you to make your gun ready to fire faster than any other safety device available.
It takes less than 1 second to remove the Safety Bullet® and load a lethal round! Yet if your child finds your firearm and pulls the trigger, if you have a Safety Bullet® installed your gun just became instantly disabled. There is nothing else like this in the market! It's fast, easy, fast, simple, fast, and safe. Did we also mention it's fast?
Here's How it Works:
• Load the Safety Bullet® in your firing chamber
• When the trigger is pulled, the Safety Bullet® locks itself in the firing chamber
• The gun becomes an instant paperweight
• If you need to use your firearm, simply cycle the action to eject the Safety Bullet® and load a live round
On Target Training is the exclusive Northeast and New England distributor of The Safety Bullet®
We are always looking for qualified dealers to help us prevent senseless shootings!
Contact us today if you are interested:
617-851-5937
[email protected]