On Target Training carries a range of 5.11 Tactical products at great prices. We recently received new inventory of 5.11 Tactical pens including the Double Duty Tactical 1.5 Pen and the PreFense Lance Pen.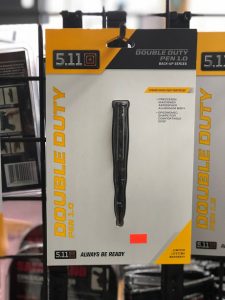 DOUBLE DUTY TACTICAL 1.0 PEN
The 5.11 Tactical Double Duty 1.0 is not just a great writing tool, but also comes into play as a great self defense tool. What's even better about this pen is that any attacker would have no idea what's coming, ensuring it will be of great use in the uncommon chance that you actually have to use the weapon.
This model has coarse grip areas and is equipped with a Fisher Space Pen PR4 medium point black ink cartridge. And we can't forget to mention its extreme durability (it's known as the toughest pen in the world!), high strength construction, sleek finish, and threaded end caps.
PRICE: $42.99
PREFENSE LANCE PEN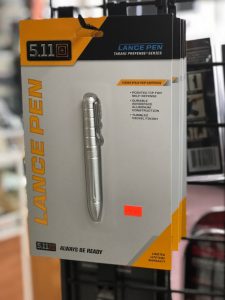 This product is a fairly new addition to the Tarani PreFense line from 5.11 Tactical. Just like the Double Duty, the PreFense Lance Pen is a great option for a low-profile self defense weapon. The design of this product is very refined and provides a great, high quality look for the office.
The PreFense Lance Pen was manufactured to look and feel like a classic pen and allows a solid and comfortable grip with a textured finish. This pen is made of anodized aluminum, has a twist-to-open function, and is also equopped with a Fisher Space Pen black ink cartridge.
PRICE: $54.99

---
ABOUT ON TARGET TRAINING
On Target Training, Inc. is the leading firearms supplier and training business in the South Shore of Massachusetts. We provide an extensive inventory of firearms, ammunition, weapons, accessories and more. Our knowledgeable staff can help you find exactly what you need in firearms and firearm training.
The Commonwealth of Massachusetts Basic Firearms Safety class, as with all of our classes, is taught entirely by police officers who have been involved in training for many years. This course qualifies individuals for a Massachusetts Class A License to Carry Firearms or a Class C F.I.D. card. All firearm instructors are full-time or retired police officers and have successfully trained hundreds of other police officers and civilians.
Sources
https://www.511tactical.com/double-duty-pen-10.html
https://www.511tactical.com/prefense-lance-pen.html