Have you started your holiday shopping yet? We've compiled a list of some of our best products that are sure to appeal to your fellow gun lover. For more information about any of these items, please contact us at (508) 456-1093.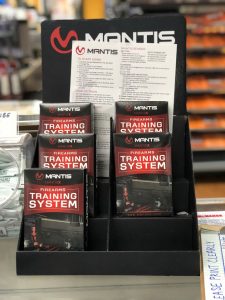 THE MANTISX
The MantisX is a device that connects to the accessory rail of any firearm. It works the same as many other firearm attachments and can be used with live fire, dry fire, airsoft, and CO2. The device evaluates your shooting performance and identifies any areas of improvement and even tracks progress over time.
STUN GUNS/TASERS
We recently received a number of new rechargeable Sabre stun guns and tasers – No batteries required. Most models of the stun guns we have are equipped with a 100+ lumen flashlight and are available in multiple colors, including pink, black, yellow, and purple. Pricing starts at only $25!

SAFETY BULLET
On Target Training is the exclusive provider of the Safety Bullet – the fastest and easiest firearms safety device on the market. We have been showcasing this revolutionary product in our store for years now and have presented it at various gun and knife expos across New England.
What's so great about the device?
Safety Bullets are the ONLY firearm safety device that will immediately disable a firearm in the event of the weapon ending up in the wrong hands – like a child's or an intruder's. What's even better is that even when the device is implemented, the gun owner can still get access to live ammunition in emergency situations without any hassle.
NEBO LIGHTS
In addition to our new stun guns and tasers, we also received a shipment of Nebo flashlights – If you are looking for a high-quality and affordable flashlight, these are the answer. We carry 180 and 500-lumen models in multiple colors and styles. Pricing for Nebo flashlights start at just $19.99!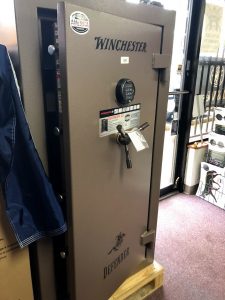 SAFES
A must-have for ALL gun owners – A safe! Whenever a gun is not in use, it should be stored and locked away in a safe place where it cannot be touched by a child or untrained adult. It is much easier than you think for a weapon to end up in the wrong hands. Be sure to take all of the proper measures to safely storing guns. There are many options for a number of needs with storing weapons, including lock boxes, large and small safes, cable locks and more.
CONCEALED CARRY HANDBAGS
Gun Tote'n Mamas is a leading manufacturer of high quality concealed carry handbags – made by women to ensure a great product. Each of the products have been tested by knowledgeable professionals in the FBI, CSI, and Navy. These concealed carry purses come in a number of styles and colors and are made of real leather material. What's even better is that they're very affordable too! Contact us for more details on pricing at On Target Training.
HANDCRAFTED JEWELRY
We told you we're much more than your basic firearms store – we have a great selection of unique, handcrafted jewelry. Customized rings and bracelets, necklaces, and pendants are to name a few of our options. Stop by and see what we have!
CONCEALMENT ATTIRE
Concealment attire never goes out of fashion – We have a great inventory of products for both men and women. Some brands we carry include Undertech Undercover and Can-Can Concealment. Whether you prefer to carry on your hip, your ankle, or thigh – there are a number of options for everyone.

---
Still stuck on what to get for your gun lovers? Stop by the store at 516 North Bedford Street in East Bridgewater – We'd love to help you out!