Interested in attending our next Shoot/Don't Shoot Seminar on September 28? Learn more about the seminar's benefits for gun owners of all ages.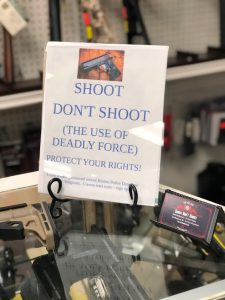 WHAT?
Shoot/Don't Shoot is a two-hour seminar that provides a detailed learning experience on the laws on the use of deadly force in Massachusetts. This course is highly recommended for all gun owners to ensure they are fully informed of their rights and what they should/should not do in the event of a home break-in or other attack.
WHO?
This seminar is hosted by 40+ year Boston Police Veteran, Joe Sirignano. Joe offers firsthand experience in the use of deadly force and is extremely knowledgeable of the laws regarding the use of deadly force. Some of the topics to be covered in the seminar include knowing and understanding the Castle Law, the 21 Foot Rule, and other legalities.
WHERE & WHEN?
Join us at On Target Training at 516 North Bedford Street in East Bridgewater! The next seminar is scheduled for Saturday, September 28 at 2:00pm. The cost of the course is $100 per seat – Don't forget to invite your family and friends!