Hey everyone – We know it's been awhile since On Target Training has put up a blog post, but now that we have our new site up we figured it's time to get some new blogs up too! It's been quite the journey getting our site to exactly where we want it to be, but we are certainly getting there and thinking of new improvements to add each and every day.
For this week's blog, we're going to introduce you to some of the new features on On Target Training's website.
First thing's first – the homepage. When you first get to our homepage, the first thing you'll probably see is our image slider. We did have this before, but we've upgraded to a larger, more prominent slider to showcase some of our top products and other offers. Be sure to keep an eye on this slider; this is where we'll be highlighting our featured products, sales, upcoming events, and other exclusive offers.
Directly below the slider, we have two very helpful pieces of information: the ATF Form 4473 and the phone number to call if/when you lose your MA LTC or FID pin. We get these inquiries a lot, so we figured it would be best to put it right there for you.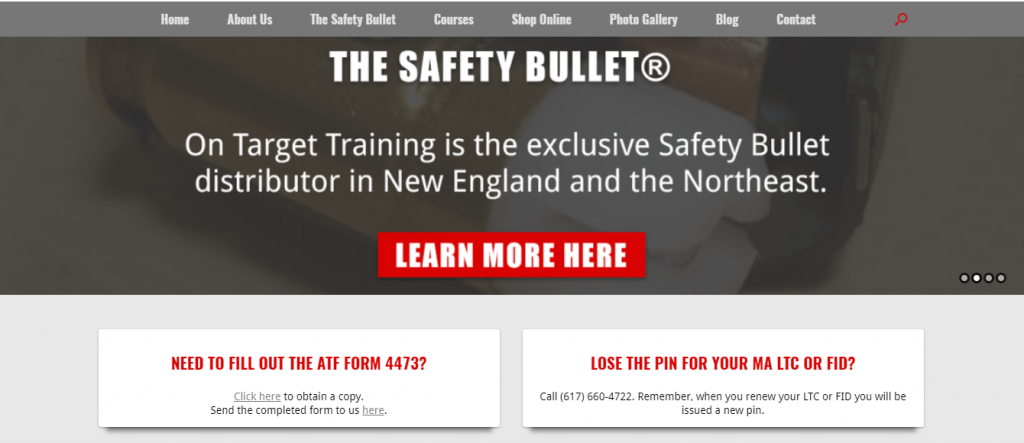 If you look below that information, you can select from the icons to browse our inventory, subscribe to our e-newsletter, and inquire about any upcoming courses we are offering. Keep in mind that we are still working on perfecting our online inventory, so it is not yet available yet! You can, however, shop on the GearFire network, which is a great platform for purchasing firearms as well.
We are starting up our bi-weekly email newsletters again too, so make sure you subscribe so you are up to date on all On Target Training info! If you're interested in expanding your education, check out our upcoming courses that may be of interest to you and sign yourself up! Just click on the inquire icon, and you will be brought to our courses page where you can see course descriptions, schedules, and registration. Don't see the class you're looking for? Send us a message and maybe we can work something out to get you what you need.
Below these icons, you can easily get directions to our store and take a look at our location through Google Maps. Additionally, we've added in a convenient and easy to use contact form in case you want to ask us a question, inquire about certain classes or firearms, or if you just want to say hello! And don't forget about our social media accounts! Make sure to follow us as we are regularly updating them with the latest news in firearms and more.
Now that you get the gist of the homepage, you can start to check out the rest of the site. Our top navigation bar will help you to get to where you need to go, whether you want to learn more about The Safety Bullet, check out our Photo Gallery, learn about our Courses or read more Blogs.
Since we talked briefly about the courses earlier, let's take a closer look at that page. You'll see there are some sub-menu items under the Courses link, in case you want to jump right into registration or schedules. The main page here provides an overview of our current course offerings. Click on the Course Descriptions link to learn more about each of our classes that we offer and what each class involves.
Please remember that all courses do cost money, which ranges depending on the type of course. Additionally, this is a tentative schedule, so times and dates are subject to change. Be sure to contact us if you are unsure of a certain course or the scheduled time.
We hope you are all enjoying the new website so far! There's a lot more to come, so be sure to subscribe and keep an eye on our blog and social media accounts for updates. We're working on Part 2 of this blog series, so stay tuned!

---

About On Target Training
On Target Training is the leading firearms provider and trainer serving the Greater South Shore of Massachusetts. We provide a range of gun safety and training courses, along with a full inventory of various firearms, men's and women's accessories, gun storage solutions, and much more.